Hauling and Trucking Services in Moose Jaw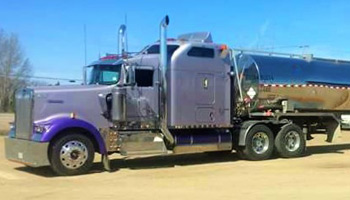 All In Express Ltd. provides a range of hauling and trucking services in Moose Jaw to meet the needs of several industries.
Livestock Hauling
If you are in the agricultural industry, we will bring you the livestock you need to run your farm, dairy facility, or food production plant. We have several trucks and trailers, from a 28ft gooseneck to a 53ft quad axle, with all the equipment needed to haul your livestock. We can haul one animal or a large group of livestock and will bring them to your farm or other location. Our experienced team will gently load and unload your livestock, keeping them calm and comfortable during the trip.
---
Truck Hauling
All In Express Ltd. provides truck hauling to transport goods and vehicles within Saskatchewan and into other Canadian provinces. This includes hauling dirt and other loose materials for construction and landscaping, supplies for retail and warehouse facilities, non-perishable food items, hazardous material, and non-hazardous material. We have trailers, dump trucks, enclosed steel barrels, and more as needed to accommodate your goods. We work with clients in several industries, including retail, manufacturing, construction, landscaping, oil, and more.
All In Express Ltd. offers flat deck hauling for materials and machinery. This includes lumber, steel, skid steers, and CP Rail items. Our drivers will ensure your load is secure and properly loaded and unloaded so your building materials and equipment arrive in top condition. For a one time job or ongoing services, we are ready to assist you.
---
Heavy Machinery Transport
We also transport heavy machinery to garages, storage spaces, construction sites, residential properties, industrial facilities, or anywhere else they need to go. Just some of the equipment we haul includes tractors, backhoes, Bobcats, riding lawn mowers, farming equipment, forklifts, bulldozers, cranes, tanks, and much more. We work with the agricultural, construction, industrial, oil field, transportation, landscaping, and many other industries. We'll get you the equipment you need to tackle big projects or perform essential everyday task.
---
Heavy Truck Repair
At All In Express Ltd. we offer heavy truck repair services. We are an SGI Accredited heavy truck repair facility offers repairs for trucks, trailers and tires. Other services include:
Engine, Transmission, Differential Rebuilding
Certified Mechanics
Safety Inspection Station
Computer Diagnoses
Fleet Maintenance
Air Conditioning
Oil Changes
Contact us today to learn more.